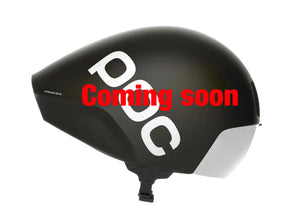 POC has announced its latest time trial helmet, the Procen.
Taking inspiration from POC's existing time trial helmets, the Cerebel Raceday and Tempor (which will remain in POC's range), the Procen combines them into a more conventional form than we're used to from the Swedish brand.
POC says its objective for the Procen was to improve the cooling characteristics of the helmet, without giving up aerodynamic performance compared to the Tempor or Cerebel Raceday.
POC says it has used the Venturi effect – the reduction in pressure that occurs when a fluid (or the airflow, in this instance) passes through a choke point – to improve the Procen's cooling and aerodynamics.
The three large vents on the front of the helmet enable air to flow through it, over the rider's head and out of the rear of the helmet, taking excess heat with it
FURTHER DETAILS
USP's
- CFD (Computational Fluid Dynamics) tested for optimum aero efficiency.
- Track-tested ventilation for optimum comfort.
- Venturi-inspired airflow improves cooling.
- Distinct trailing edge pushes air away from shoulders.
- Detachable breakaway visor.
- Lens start position function prevents fogging.
- Lightweight adjustable fit system.

Safety certification
Combined certification - EN 1078/CPSC/AS/NZS 2063

Sizes
Medium (54-60) – with fit pads included to fine tune individual sizing