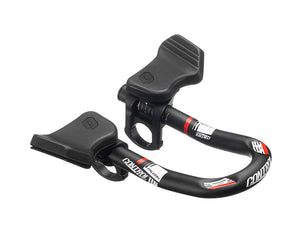 Aluminum clip-on aerobars for pursuiting
time-trial and triathlon.
A  set of light, aerodynamic compact aerobars.
The Falcon TT Bar is made from AL6061 with excellent stiffness and cost-effectiveness.
Ergonomic and anatomical design to suit every rider for a natural riding position without sacrificing aerodynamics.
Easy to attach to, and detatch from, your handlebars thanks to 31.8mm bar clamps, to switch between TT and road setups.
Comfortable arms pad.
Bridge connects extensions for increased hand comfort
20mm, 40mm, 60mm spacers are available in which riders can optimize the stack height seeking for the most aerodynamics with the best ergonomics.
The 20mm, 40mm, 60mm spacer need to purchase separately.
Total weight just 407g.
Material:AL6061
Length Max:190mm
Length Mini:160mm
Armrest's R/L Adjustable:R/30mm, L/30mm
Armrest's +/- Adjustable Angle:15°(+/- 7.5°)
Clamp:31.8mm
Weight:407g (with pads)
Color:Red / Gray
Stem Mounted version, best paired with the falcon stem