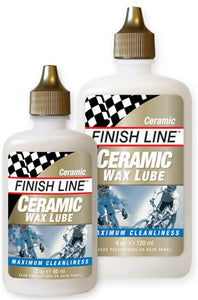 FINISHLINE CERAMIC WAX LUBE
Finish Line's Ceramic-WAX™ is an advanced wax-based lubricant featuring nano-sized platelets of ceramic boron nitride and micron particles of fluoropolymer. Ceramic WAX creates a coating with an extremely low coefficient of friction. Every time Ceramic WAX is applied, the ceramic coating is enhanced, ultimately providing the durability of many oil-based lubricants! Ceramic WAX ensures total drivetrain cleanliness without the 'distance' compromise that other wax lubricants require.
With Finish Line Ceramic WAX there is no 'wetness' or stickiness on your chain or parts, so dirt or grime are not attracted or absorbed by the lubricant. Ceramic WAX is perfect for dry and dusty conditions. By avoiding abrasive wear, parts run more smoothly and last much longer! And Ceramic WAX is engineered to not have a wax film that will buildup over time. Ceramic WAX is so unique and leading edge it's patented!