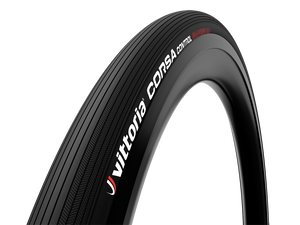 You asked and we delivered! The Corsa Control tackles greasy cobbles and rough roads with all the confidence of the classic Corsa. Sharing the same 320 TPI Corespun-K reinforced casing, and technical 4C Graphene compound technology, the Corsa Control adds a textured shoulder tread to the mix. This chevron tread pattern adds dynamic performance to the Corsa Control tread, allowing for increased grip on slippery surfaces, as well as added durability.
Tyre choice of professional riders for races on cobble stones and pavé. 
Thicker tread for the best puncture protection in colder conditions.
320tpi Cotton K casing.
Functionalized GRAPHENE 2.0 compound allows for increased resistance.
4 compounds in the tread (4C) for increased wear life, better rolling and better grip on the sides.
TLR Versions available - 

Use ammonia free TLR sealant like Vittoria Ultimate Sealant.