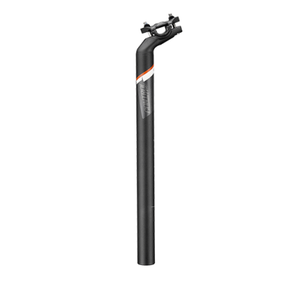 Lightweight, stiff and beautiful-looking seatpost that will improve your cycling performance and enjoyment.
The seatpost is constructed from 6061 aluminum to increase strength without adding weight. It's also extremely durable.
It's offset by 23mm so you can position the saddle so you fit the geometry of your frame.
Stainless-steel bolts will last a lifetime and keep your seatpost firmly clamped to your saddle.
Comes in 27.2mm and 31.6mm diameters to suit every frame.
The CLS23mm OffSet Seatpost weighs just 287g.
Made For:Road racing, sportive riding and cyclocross
Material:6061 aluminum
Seatpost Bolt Material:Stainless steel
Seatpost Length:350mm
Seatpost Diameter:27.2/31.6mm
Offset:23mm
Weight:287g (350mm, 31.6mm option)
Color:Red/Gray