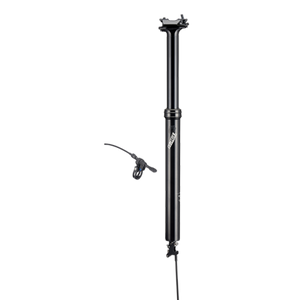 So you out riding and wanting to adjust that seat stem a fraction, but don't have tools, want to drop the height for a bit of downhill action?

try out these dropped seat posts
Bar-mounted remote uses a superior gimbal-based design for easier activation and better ergonomics.
Remote constructed from super-tough engineering thermoplastic, as seen in motorcycle helmets, skis and ski boots.
Available in two diameters: 27.2mm for Gravel and 30.9mm, 31.6mm, 34.9mm for MTB
Available in two travel lengths: 50mm and 100mm for Gravel, 100mm, 125mm and 150mm for MTB
Strong and light aluminum chassis contributes to a low all-up weight of 590g.
Anodised for a tough, non-slip and long-lasting finish.
Inline clamp is ideal for steepening/shortening frames with slack seat angles.
Partners perfectly with Controltech saddles.
pec:27.2mm/30.9mm / 31.6mm/34.9mm
Travel:50mm/100mm (Gravel 27.2mm) 100mm/125mm /150mm /170mm (MTB 30.9 / 31.6 / 34.9)
Length:50mm:350mm / 100mm:350mm / 125mm:375.5mm / 150mm:437.5mm
Weight:50mm: 410g / 100mm: 465g / 125mm: 575g / 150mm: 570g
Finish:Anodized black
Feature:Engineering plastic remote control with gimbals design for better ergonomics